Below are some books for reading over the holidays, which will help you understand why your new, Republican controlled Congress will fail you during the next two years.
So Damn Much Money: The Triumph of Lobbying and the Corrosion of American Government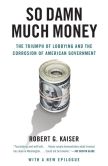 In
So Damn Much Money
, veteran
Washington Post
editor and correspondent Robert Kaiser gives a detailed account of how the boom in political lobbying since the 1970s has shaped American politics by empowering special interests, undermining effective legislation, and discouraging the country's best citizens from serving in office. Kaiser traces this dramatic change in our political system through the colorful story of Gerald S. J. Cassidy, one of Washington's most successful lobbyists. Superbly told, it's an illuminating dissection of a political system badly in need of reform.
THIS TOWN
Two Parties and a Funeral — Plus Plenty of Valet Parking! — in America's Gilded Capital
By Mark Leibovich
386 pages. Blue Rider Press. $27.95.